General Information
At the Crossroads of the Microbiome, Metabolism & Glycoscience
Co-Chairs, Dr. Catherine Grimes, University of Delaware & Dr. Sean Stowell, Brigham and Women's, Harvard Medical School
April 29, 2022
9am to 5pm EDT
(Virtual/Videocast)
This NIH Common Fund virtual symposium is being hosted by the Common Fund Glycoscience Program.
For the past decade, the topics of the microbiome and metabolomics have become vital to human biology and disease. While the microbiota and metabolism can shape many biological processes, recent studies demonstrate that the ability of microbes to not only influence carbohydrate metabolism but also decorate themselves in diverse carbohydrate structures can significantly influence the consequences of host-microbial interactions. However, unlike assays designed to interrogate microbial communities or examine metabolic changes in a high throughput manner, the tools needed to similarly dissect how microbial glycans influence host biology have been more difficult to develop. Recent investment from the NIH Common Fund (and related funding agencies) to address this issue has resulted in the development of next-generation tools designed to specifically evaluate complex carbohydrate structures and their functions, including the study of carbohydrates and related metabolites in host-microbiota interactions. This symposium will provide examples of how the microbiome and metabolism influence a variety of critical biological processes, while highlighting how tools designed to study complex carbohydrates may be used to provide new insight into key aspects of host-microbiota interactions.
Confirmed Speakers
Dr. Fikri Avci, University of Georgia
Dr. Emily P. Balskus, Harvard University
Dr. Mariana Xavier Byndloss, Vanderbilt University Medical Center
Dr. Richard Cummings, Beth Israel Deaconess Medical Center, Harvard Medical School
Dr. Mario Feldman, Washington University School of Medicine, St. Louis
Dr. Michael Fischbach, Stanford University
Dr. Catherine Grimes, University of Delaware
Dr. Laura Kiessling, Massachusetts Institute of Technology
Dr. Samantha King, Nationwide Children¿s Hospital, The Ohio State University College of Medicine
Dr. Drew Kiraly, Mount Sinai University
Dr. Amanda Lewis, University of California San Diego
Dr. Lorenzo Leggio, NIAAA & NIDA, NIH
Dr. Mohamed Abdel-Mohsen, Wistar Institute
Dr. Victor Nizet, University of California San Diego
Dr. Seth Rakoff-Nahoum, Boston Children's Hospital, Harvard Medical School
Dr. Katharina Ribbeck, Massachusetts Institute of Technology
Dr. Stefan Ruhl, University at Buffalo School of Dental Medicine
Dr. Nadine Samara, NIDCR, NIH
Dr. Christine Szymanski, NIDCR, NIH University of Georgia
Dr. Sean Stowell, Brigham and Women's, Harvard Medical School
Dr. Steven Townsend, Vanderbilt University
Support
Sponsored By
NIH Common Fund, Glycoscience Program
Logistics
Campus Access and Security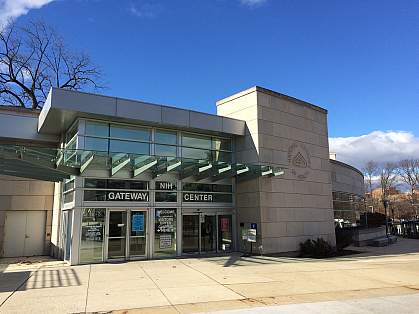 Richard Barnes, NIH
The National Institutes of Health, like all Federal Government facilities, has instituted security measures to ensure the safety of our patients, employees, guests and facilities. Please visit the Department of Homeland Security National Terrorism Advisory System (NTAS)(link is external) site to learn more about any current terrorist threat alerts for government and public entities that may impact NIH security.
All visitors must enter through the NIH Gateway Center. You will be asked to submit to a vehicle or personal inspection. Visitors over 15 years of age must provide a form of government-issued ID such as a driver's license or passport. Visitors under 16 years of age must be accompanied by an adult.
Please be aware: Federal law prohibits the following items on Federal property: firearms, explosives, archery equipment, dangerous weapons, knives with blades over 2 inches, alcoholic beverages, open containers of alcohol and marijuana (cannabis).
Visitors are encouraged to use public transportation such as the Metrorail subway system which has a convenient stop (Medical Center) on the NIH campus. Visit the "Metro" site for information on fares and schedules(link is external).
Read our list of Frequently Asked Questions (FAQs) related to safety and security at the NIH, including information about pedestrian entrances, parking and general campus access.
NIH Gateway Center
Visitors will be required to show one (1) form of identification (a government-issued photo ID-driver's license, passport, green card, etc.) and to state the purpose of their visit.
The NIH Gateway Center is located adjacent to the Medical Center Metro Station at the South Drive entrance to campus from Rockville Pike / Wisconsin Avenue (Route 355). It combines visitor parking, non-commercial vehicle inspection and visitor ID processing, all in one location. The NIH will process all visitors in vehicles or as pedestrians.
Patients and patient visitors should continue to enter campus at the West Drive/Cedar Lane entrance during the hours of 6am - 10pm, 7 days a week.
View a map detailing the Patient Visitor Entrance.
REAL ID
As of October 1, 2020, the National Institutes of Health (NIH) will no longer accept identification credentials that fail to meet the minimum requirements and issuance standards for federal recognition per the REAL ID Act of 2005. The Act establishes minimum security standards for state-issued driver's licenses and identification cards and prohibits federal agencies, such as NIH, from accepting for official purposes licenses and identification cards that do not meet these standards.
Under the REAL ID ACT, NIH may only accept state-issued driver's licenses and identification cards that meet the standards required by the ACT to access our facilities. Enhanced Driver's Licenses (EDL) issued by Michigan, Minnesota, New York, Vermont, and Washington are considered acceptable alternatives to REAL ID-compliant cards and will also be accepted for official REAL ID purposes. Most EDLs do not contain the star marking and this is acceptable. The EDLs do however state they are enhanced driver's licenses and have an American flag either overlapping the picture or at the bottom right hand corner.
Individuals who come to the NIH's Clinical Center for inpatient or outpatient services are not subject to the REAL ID Act of 2005.
Approved Forms of ID Required to Enter NIH Facilities as of October 1, 2020:
REAL ID Driver's License or State Identification Card or Enhanced Driver's License
Passport or Passport Card
HSPD-12 PIV or CAC Card
Permanent Resident Card
Federally Recognized, Tribal-Issued Photo ID
Canadian Provincial Driver's License or Indian and Northern Affairs Canada Card
USCIS Employment Authorization Card (I-766)
Other Less Common Documents (e.g. Merchant Mariner Credential)
For additional information about the Real ID Act, please visit: https://www.dhs.gov/secure-drivers-licenses(link is external).
Pedestrians
Gateway Center (for Pedestrians) Building 66
Open Monday - Friday, 6am - 10pm
Closed on Weekends and Observed Holidays
After 10pm on weekdays, all day weekends and holidays, pedestrian visitors should enter campus via the Commercial Vehicle Inspection Facility (CVIF) Building 67 (on Rockville Pike between North Drive and Wilson Drive)
For individuals arriving as pedestrians, the Gateway Center (Building 66) is capable of handling single individuals to large busloads of visitors, quickly and efficiently.
Vehicles
For visitors arriving in vehicles, on motorcycles or bicycles, the Gateway Vehicle Inspection Station (Building 66A), provides multiple inspection lanes and allows visitors to go through inspection and get a visitor badge in one centralized, efficient process. Vehicles enter the Gateway Center complex through "NIH Gateway Drive," just south of the intersection of South Drive and Rockville Pike. Vehicles that choose to bypass parking in MLP-11 will go through inspection and enter campus at Center Drive near the National Library of Medicine. (See Gateway Map)
Gateway Center Vehicle Inspection (Building 66A)
Hours of operation: Monday - Friday, 5am - 10pm
After 10pm on weekdays, and on weekends and holidays, visitors in vehicles should enter via the Commercial Vehicle Inspection Facility (CVIF) Building 67. The CVIF is located on Rockville Pike (Route 355) between the North Drive and Wilson Drive employee entrances. Visitors gain entry into the CVIF traveling southbound on Rockville Pike.
Taxies may enter campus via the Gateway Center Vehicle Inspection Center (or CVIF), and must use the CVIF when the Gateway Center Vehicle Inspection Center is closed.
Parking
Please note: visitor parking is limited at NIH. Visitors are encouraged to use public transportation such as the Metrorail subway system which has a convenient stop (Medical Center) on the NIH campus. Visit the "Metro" site for information on fares and schedules(link is external).
The Gateway complex also includes MLP-11, a 342-space, multi-level underground parking garage. This visitor-only lot is the primary visitor parking for the NIH main campus. We strongly encourage all visitors to park in this garage as there will be limited visitor parking on campus, other than for patients and visitors to the Clinical Center. Vehicles parking in MLP-11 are outside of the perimeter security and will not go through vehicle inspection, reducing the amount of time it takes to get on campus.
The cost to park in MLP-11 is $2 per hour for the first three hours, $12 maximum for the entire day. This is the same rate currently charged for all visitor parking at the NIH.
Visitors parking in MLP-11 should proceed to the Gateway Center to get a visitor badge and either walk or take a shuttle bus to their destination.
MLP-11 Hours of Operation:
Monday - Friday:
6am - 9pm (entrance)
6am - 11pm (exit)
Saturday - Sunday:
Closed
When MLP-11 is closed, visitors can park in lots on the NIH main campus.
Vehicles left in the MLP-11 parking garage after 11pm on weekdays or during weekends are subject to ticketing and towing.
Commercial Vehicle Inspection Facility (CVIF)
Commercial vehicle deliveries must undergo security screening at the Commercial Vehicle Inspection Facility (CVIF). It is located on Rockville Pike between North Drive and Wilson Drive and is open 24 hours a day, 7 days a week (inbound traffic only).
Commercial food and catering delivery vehicles should enter via the CVIF. Food deliveries made in private vehicles without commercial signage may use either the CVIF or the Gateway Center.
Vendors and contractors with frequent official business at NIH can be issued special temporary IDs. You must provide an original letter on company letter head or a memo from your NIH Project Officer justifying your need for a temporary ID. The letter/memo must contain your full name and date of birth and must be presented in person with a valid photo ID at The NIH Guard Office Operations Branch (part of the NIH Police) located in 31/B4BE09 (Phone: 301-435-5095).
Meetings and Special Events
Mission-related activities are allowed during normal business hours but require special permission for groups of 50 or more. Mission related activities during evenings and weekends for all groups require special permission. NIH conferences and special events are governed and approved by the policy "Conditions for Access to and Use of NIH Facilities for Group Functions, Activities, and Special Events." Contact NIH Special Events for guidance at 301-496-9966.
Special Information for Clinical Center Patients
For information about planning your visit to the NIH Clinical Center, please visit the Clinical Center web site.
Bicycles
Read the NIH Perimeter Security System - Bicyclist Fact Sheet.
Traffic Advisories
Tune your radios to AM1660 for further NIH traffic, parking and security advisories. For questions, please contact the ORS Information Line at orsinfo@mail.nih.gov(link sends e-mail) or 301-594-6677, TTY 301-435-1908.
Visitor Parking and Transportation
Visitors must park in designated visitor parking lots. Patients may park 24 hours a day, 7 days a week in the Clinical Center garage, P-1 level. Vehicles will be inspected prior to parking in underground or multi-level garages.
Campus Shuttle Schedule
The NIH Campus Shuttle is free of charge and runs daily, both on and around campus and from campus to various off-campus NIH buildings.
Shuttle schedule (for Blackberry)
The URL for BlackBerry devices is https://shuttle.nih.gov. This application is suitable for BlackBerry models 6710 and 6510. It is not suitable for models 850, 950, and 957 due to memory limitation. This feature requires that the BlackBerry subscriber has Wireless Internet access.
If you have questions, please contact Louise Davis(link sends e-mail). We will be glad to test other devices that you have. We will be glad to test other devices that you have.
Building Security
Due to the checking of IDs at the perimeter, employees and visitors will not be required to show their ID again to gain access to the majority of buildings on the NIH Bethesda campus during the normal business day. Employees and visitors should continue to wear their identification prominently at all times while on campus.
Guards will remain at certain buildings to address specific program requirements such as sensitive research and safety concerns. At building entrances where guards are posted:
Employees must show a DHHS-issued photo ID (for example, your NIH-issued ID badge)
Visitors may be required to log in, wear a visitors pass and have an employee escort them through the building.
Visitors may be required to pass through a metal detector and have bags, backpacks or purses inspected or x-rayed as they enter buildings.
Security staff will be looking for and confiscating any suspicious or potentially dangerous materials. U.S. Code prohibits bringing any dangerous weapons onto Federal property, including anything with a blade longer than 2 inches. Meeting participants may want to leave extra bags or personal materials at their hotel to minimize the time needed for inspection
After-hours building access will require the use of an employee ID at electronic access card readers at building entrances and certain internal areas. Similar, appropriate security adjustments will be made at off-campus facilities. Employees are encouraged to be vigilant and report anyone using unauthorized entrances or suspicious activity to the NIH Police at 301-496-5685.
Emergency Preparedness
Information regarding emergency planning and preparedness at the NIH is available in the NIH Emergency Preparedness Handbook.